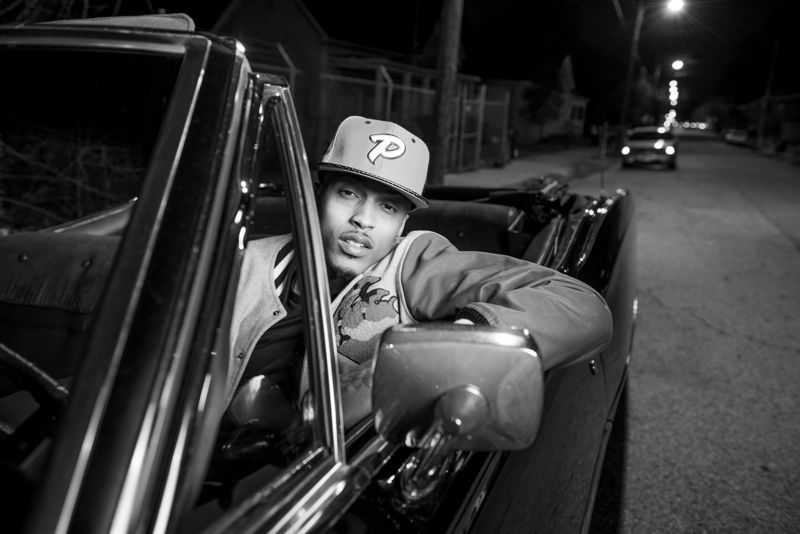 On The New Deal with Def Jam:

I went to L.A. to go meet with Karen Kwak, she had been f**king with me for a long time, because I had been posting sh*t on Youtube for a while. She saw me as a youngin, but she always kept her eye on me. I played her some music, vibed with her, the chemistry was there. She sent me around to meet different people, some A&R's. [The] Dream is an A&R at Def Jam as well, so Dream f**ked with the shit, he really pulled for me. It was just a no-brainer to be in that presence amongst so many other greats at Def Jam. He understood who I am as an artist and as a person. I think that's really what it's all about, having someone that understands.

Signing and Working with The-Dream:

Dream is going to be co-executive producing the album. I f**k with Dream, he's incredibly talented. He's involved in everything that I do. I go play him my sh*t and we just vibe. I just do my thing. I brought him my single "I Love This Sh*t" and it was pretty much a no-brainer for everybody.

On The New Song "I Love This Sh*t":

I had been sitting on the song for about 6 months, which is funny because I had been going through people like who [could do it], because I knew this was the song I wanted people to hear from me first. After Trinidad [James] dropped "All Gold Everything" I knew that's the ni**a, we gotta get him, cuz the song is just about some lifestyle sh*t, and that's everything Trinidad embodies. It's just about a young ni**a gettin it, hustlin, grindin and you might look at it like I'm a bad guy and this isn't the stuff I'm supposed to be doin, but at the end of the day, this is my life, and I love this sh*t.

[Trinidad] We connected, he's into the same sh*t I'm into, tats and all that, we just got it done. We just shot the video, it should be droppin soon.

Being Labeled a R&B badboy?:

Honestly, in my opinion that sh*t is wack, but if that's what you want to call it, that's what is it. I just feel like I am who I am, but it's not so much [people] saying it, but the label that comes along with it. I'm me period, however you see me, but that makes it seem like I'm only this type of ni**a, some bad, delinquent type of ni**a. But, it is what it is.

What's your inspiration right now?

Man, it's crazy because the only answer I can give you right now… I listen to a lot of music, I really do, but as far as inspiration goes, it's really about life for me. The sh*t that I see, the sh*t that I go through, I think my biggest inspiration right now is my brother. It's a really f**ked up situation, I feel like if I didn't lose my brother I wouldn't be here, because I would still be on some other sh*t. If I could have my brother back I would give this sh*t up anyday. That's really my inspiration, letting my brother live through me, and I believe God do everything for a reason and that's just something God put me through to help other mutherf***ers like, "damn homie been through all that and he doing something positive, and he makin money the legal way." I'm just tryin to put on for my brother, and put on for my city.

Why is love for suckas?

Because mutherf***ers ain't no good and to deal with no good sh*t you gotta be a sucker ass ni**a. [The Song] Love is for Sucka's because of the situations that I've been through. I'm a young ni**a but I'm good on it right now, I'm chillin. You'll hear why love is for suckers in some of my music. There's a new song called "I'm gettin paid," it's a situation that happened and it is what it is. It's one of the realist situations that I went through. I think the "Product II" will give you a good answer.

On "Ode to My Project Chicks":

Other people might see people from New Orleans as project or ghetto or country, but I love my city and I love my N.O. women. I love a New Orleans woman. When I did 'Project Chick,' it was really about showin love. Like me there are young ni**as grindin but there's females too. Females that got kids that are workin 2,3,4 jobs, getting on the bus just to get to work and really hustlin. It's the essence of a girl who got that hood spirit and got that hood mentality but also that hustle in her, she got that hustlers ambition.

First Time at Mardi Gras/Crazy Story?

My first Mardi Gras, I got pictures of me lost at Mardi Gras, I was fresh out in new Orleans, the soonest I could get to Mardi Gras I was there. I was about 5, I remember being with my momma and them, my school we used to go march in the Parades when I was in elementary, and just all of a sudden I was lost, ya know Mardi Gras be so many people and as a kid you lookin around like where is my momma, and I just remember being with the police in the station and my momma found me, she damn near had a heart attack!

On his debut album, what fans can expect?

My album is done. I walked into Def Jam with my album. I played it for them and everybody f**ked with it. I'm pretty much done with it, but I'm workin everyday, I guess you could never actually be done because great sh*t happens everyday.

The album is just some real sh*t, some heartfelt sh*t, you're going to get to know me on a totally different level. You'll get to see every side and every aspect of me. Ni**as only see what they see by the eye and don't really know a ni**a, but that's what I'm doin with the album, showin there are different sides to a ni**a. I'm a youngin and I'm a human being, so you can just expect to get to know me and really just get to live my life through the music.

Hopes and plans for his music/career

First off, this is just something that I love to do, but it's something that I can do to provide and take care of my family and the people that I love. I only know how to do 2 things, I remember workin at McDonalds and I only had the job for about 2 weeks because it was always like this ain't for me. I only know how to do two things-it's either sell dope-or sing. So, of course it's this for me.

Really, I just want to show mutherf***ers that anything is possible, it don't matter what your situation is, you got to be self-made. You can't let your situation make you, you gotta make your situation, and that's really what it's about for me. To let you know you can do whatever you want to do, can't no mutherf***er tell you no, nothing. I'm the ni**a that can tell a ni**a that, and whats why I stress it, because I know where I come from and what I come from, so a ni**a can do anything. I never thought I would be here. So God put me here to inspire other ni**as and to show ni**as that it's possible, and to be apart of, and I know this is a little big to say, but to be about being apart of helping to change the world.

Wednesday, February 6, 2013 at 6:44PM
|

2 References
|

Post a Comment
|