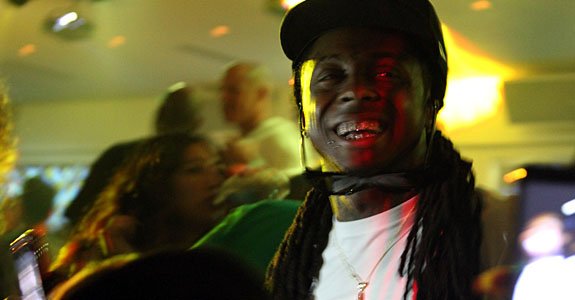 Lil Wayne and company were in Atlanta yesterday for there "I Am Music II" tour stop and after wards they hosted and shut down Compound night club. Word is Compound was charging up to $100.00 at he door to see @LilTunechi in person.Nicki Minaj headed over to Taboo 2 after the show. Producer Bangladesh was hosting club ESSO
Wayne, Nicki Minaj, Rick Ross and drummer Travis Barker took over ATL's Phillips Arena for an evening of good music and entertainment. The last time Weezy touched the stage at the arena he was a special guest during Young Jeezy's set closing out the annual radio concert "Birthday Bash." Last night the YM founder stuck to the script he'd been using throughout the tour bringing out no special guests outside of his Young Money roster. For a minute, fans were expecting to see either Jeezy or Gucci Mane hit the stage but Jeezy was in Chicago crowning his latest Corporate Thuz Entertaiment signee Freddie Gibbs while Gucc remains locked up in the county's jail on probation violation charges.

Following the show Wayne and his YM camp took to Club Compound where he posed for photos with his fans. Jermaine Dupri, producer Jazza Phae and rapper Mo Pain were also on hand for the festivities. Compound was completely redecorated for Wayne's arrival and at one point it appeared the club would run out of Moet Rose' after Pain and his entourage secured an impressive 100 bottles of the champagne.

Monday, April 11, 2011 at 9:08AM
|

Post a Comment
|